Free Framed Poster in Living Room Mockup
Download this high quality Photoshop mockup of a vertical framed poster on a wall in an aesthetic living room completely for FREE!
This mockup comes in a high resolution and with high customizability. Add your poster to the scene, no matter the dimensions and change the color of the border to match it to your design. Furthermore, you can change the look of this aesthetic, clean and modern light flooded living room with plants, a dresser, a cosy chair and a carpet completely! Simply customize the colors of the wall and those of the dresser and the chair to transform this mockup into a perfect scene, made to present your poster design in the best way possible.
Adobe Photoshop is required to edit this mockup. Use it to display your poster designs or print on demand posters.
How to use
If you are new to Photoshop, follow the following guide on how to use this mockup. Although it's very easy and straight forward, this can help you if you're stuck.
First, download and open the PSD file for free. You will find the PSD mockup ready to be customized.
Double-click on the thumbnail image of the poster, labeled "[DOUBLE CLICK] Your design". That way you will open the smart object in a new file. Here you can simply paste your own poster design. You can choose to scale your poster to fill the frame entirely, or scale it smaller to leave space for a border. When you're done, save the smart object before closing.
Return to the initial file, where your poster is automatically added to the living room scene. Now you can adapt the colors of the room if you want to. For that, double click the Solid Color layers. That way, you can seperately change the color of the border of the poster, the wall and the furniture.
DONE! Export your image displaying your poster in a frame hanging on a wall in an aesthetic and modern living room.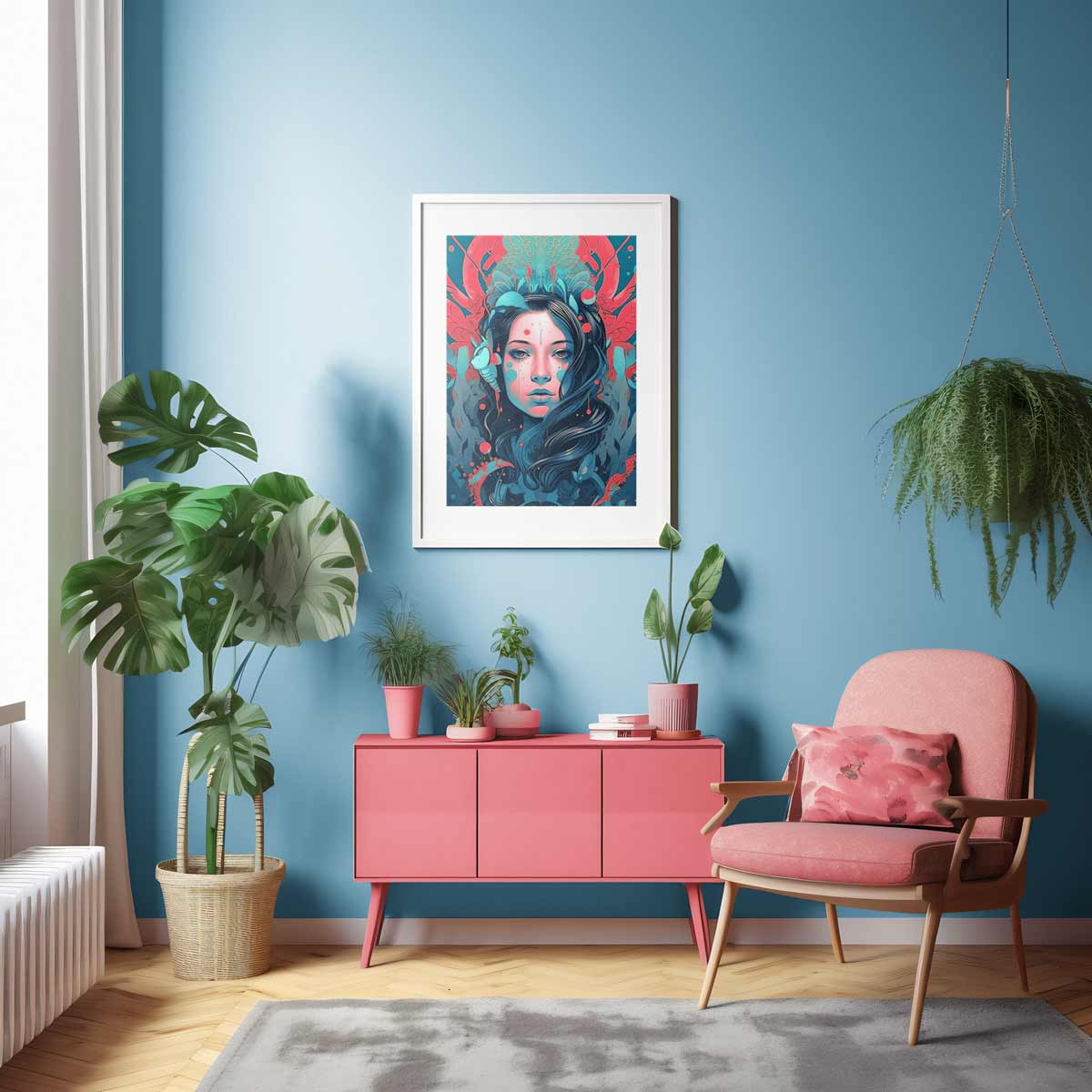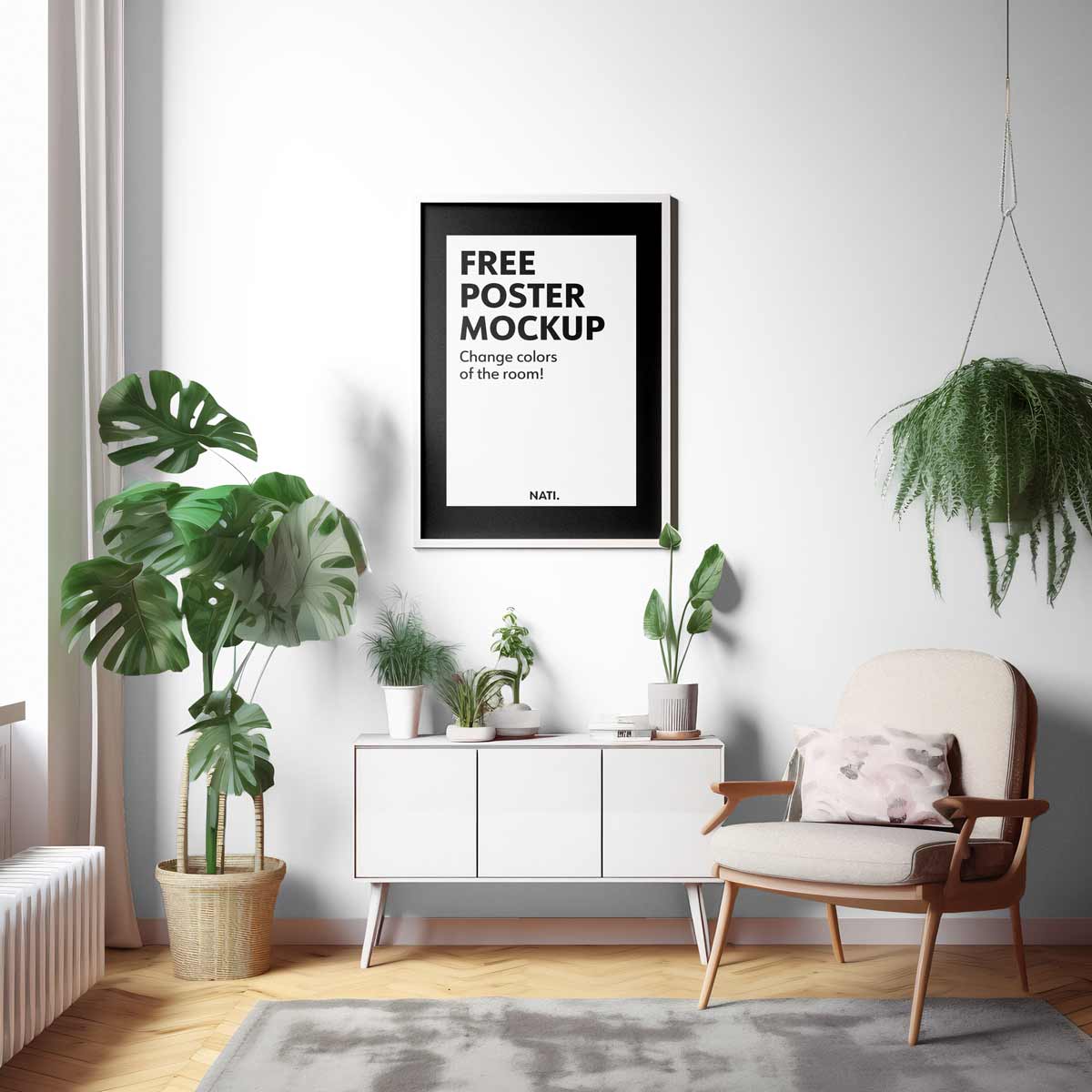 This mockup of a framed poster in a living room can be fully customized to your needs. Add a colored border to your poster and adapt the colors of the entire scene to match your poster design. The easy to use Solid Color layers make this possible, so you can create a unique living room scene in seconds!
This mockup has a high resolution and is very detailed. Using different lighting and shadow layers, the scene will look realistic no matter which colors you choose! The realistic lighting adds depth to any color.
DONATE
If you enjoy this free mockup, please consider supporting me with a small donation.
DOWNLOAD
Enjoy this mockup?
If you found our mockup helpful and it contributed to your project, I would be immensely grateful for your support.
By making a donation, you can help me continue to create more useful resources for designers like yourself. Your generosity will enable me to keep sharing high-quality content.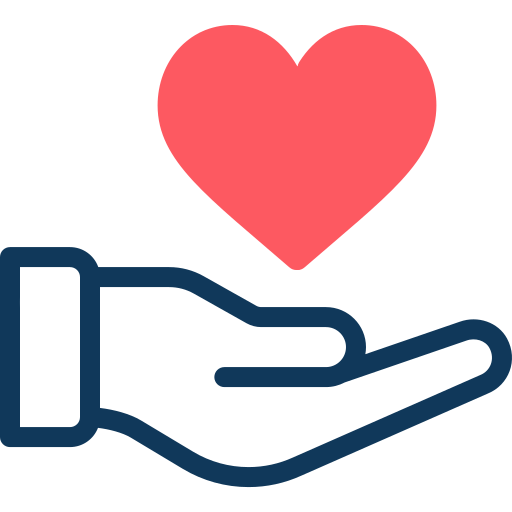 DONATE
Photoshop PSD file, 4096x4096 px
Free for non-commercial use only. Please contact me under contact@sachanati.com for commercial licenses.
By downloading this file, you confirm to have read and agree to the license agreement.
Poster Room Mockup
by
Sacha Nati
is licensed under a
Creative Commons Attribution-NonCommercial-ShareAlike 4.0 International License
.